Welcome to the FYR blog! The SSSC's First Year Rep team is full of awesome and dedicated first year student leaders who connect their classmates to all the amazing events and workshops run by the SSSC! A FYR's main job is to make weekly in-class announcements, which not only allows them to hone in on their public speaking skills, but also gives them the opportunity to build connections with professors and make new friends. Check out what some of our First Year Reps have to say about their experience on the team and their first year at Carleton!
RACHEL:
My name is Rachel B., and I am in first-year Health Sciences, with a minor in Physics. I'm from Lombardy, Ontario, a small town near Smith's Falls. My favourite part of Carleton is the people. I love the feeling of community I get from getting involved at Carleton as a SSSC First-year representative, being on the SSSC intramural soccer team, going to Power to Change events, and getting to know the students and professors in my classes. The people here are fun and friendly, and really want you to succeed. That's what makes it great! As a first-year rep, I make announcements in my classes about upcoming events and workshops at the SSSC. This was a great way for me to introduce myself to my professors and classmates, as well as develop communication skills. I like that I get to share all the great things the Centre does! Being on a team with other first-year reps has been the most fun part of being a rep. A lot of us have similar classes and work together in class and while studying; other times, we just hang out! The mentors at the SSSC are also really supportive and fun. Getting involved with the SSSC was one of the best decisions I made when starting university. I love it!
CHRISTINA:
My name is Christina A. and I am from Waterdown, Ontario. I am in the honours biochemistry program. My absolute favourite thing about Carleton is that there are many interesting community events that are always going on here on campus. One of my favourite events was when I met Chris Hadfield the astronaut after he did an inspirational presentation. I am really enjoying being a first year rep because I have made connections with so many great people who are also studying the sciences that I maybe would have never met if I wasn't a first year rep!
VIVIENNE:
I am a part of the Biology (major) and Neuroscience and Mental Health (minor) programs here at Carleton. I was born in India but grew up in Muscat, Oman. I just moved to Canada this year and really like the weather. Just kidding. I love the poutine, the people, and the gorgeous buildings downtown. I love that Carleton has so many different opportunities to offer students in the way of clubs and co-curricular activities. The SSSC has made me feel really comfortable and welcome during my stay in Canada thus far, and feels like a home inside of my greater home (Carleton). I love the energy that everyone here has, and the passion they exhibit for helping others understand science.
BEN:
Hey! My name is Ben and I'm a first-year student in Chemistry and Physics. I'm from Waterloo Ontario, but for the past five months I've been proud to call Carleton University my home. I live on residence in Stormont House, and one of my favourite parts about the past five months must be The Caf. Having access to unlimited, delicious food that's never more than a few minutes' walk away; it's pretty great. At the SSSC, I am part of the first-year representative team. My job is to make announcements to my classmates about upcoming events and workshops that the SSSC is hosting. Meeting and making connections with other science students is my favourite part of being a first-year rep. Though being significantly less frightened of public speaking than I was in September is a nice perk as well.
RONNI:
Hi! I'm Ronni, a first year in Computer Science here at Carleton. I'm originally from Toronto but I came to Carleton for the community and the history and opportunity that comes with being in the capital of Canada. Being a First Year Rep has allowed me to make some of my closest friends and ensured that I'm always up to date on what's happening in Science at Carleton. It's even allowed me to meet people in classes that I otherwise would have no one to get notes from or discuss assignments. If you want to get involved or get known at Carleton, being a First Year Rep for the SSSC is a great way to do so.
CAROL:
Hey! I'm Carol and I am a first year representative with the SSSC. It's been a great way to get involved with the school community, and meet new people. I'm studying chemistry and physics, and I've lived in Ottawa my whole life. When I'm not doing copious amounts of math, I'm usually drawing and writing or watching cartoons and reading.
MICHELE
Hello! My name is Michele L. and I am a first year student in Health Science with a concentration in Global Health. I'm from a small town in northern Vermont, about one hour from the Canadian border. I really love living in a city like Ottawa, especially since the Carleton campus feels like its own small town, separate from downtown. When I first came to Carleton, I decided to join the SSSC as a way to get involved with the science community. Fortunately, by becoming a first year representative, I have made a bunch of friends, both in my year and in upper years, who all understand my drive to work hard to succeed in the Faculty of Science. Already, I have had the opportunity to sign on to a research project that will not only allow me to explore my interests, but also travel abroad to complete field work. I truly appreciate the opportunities the SSSC has given me, especially the contacts, friends, and resources it has provided.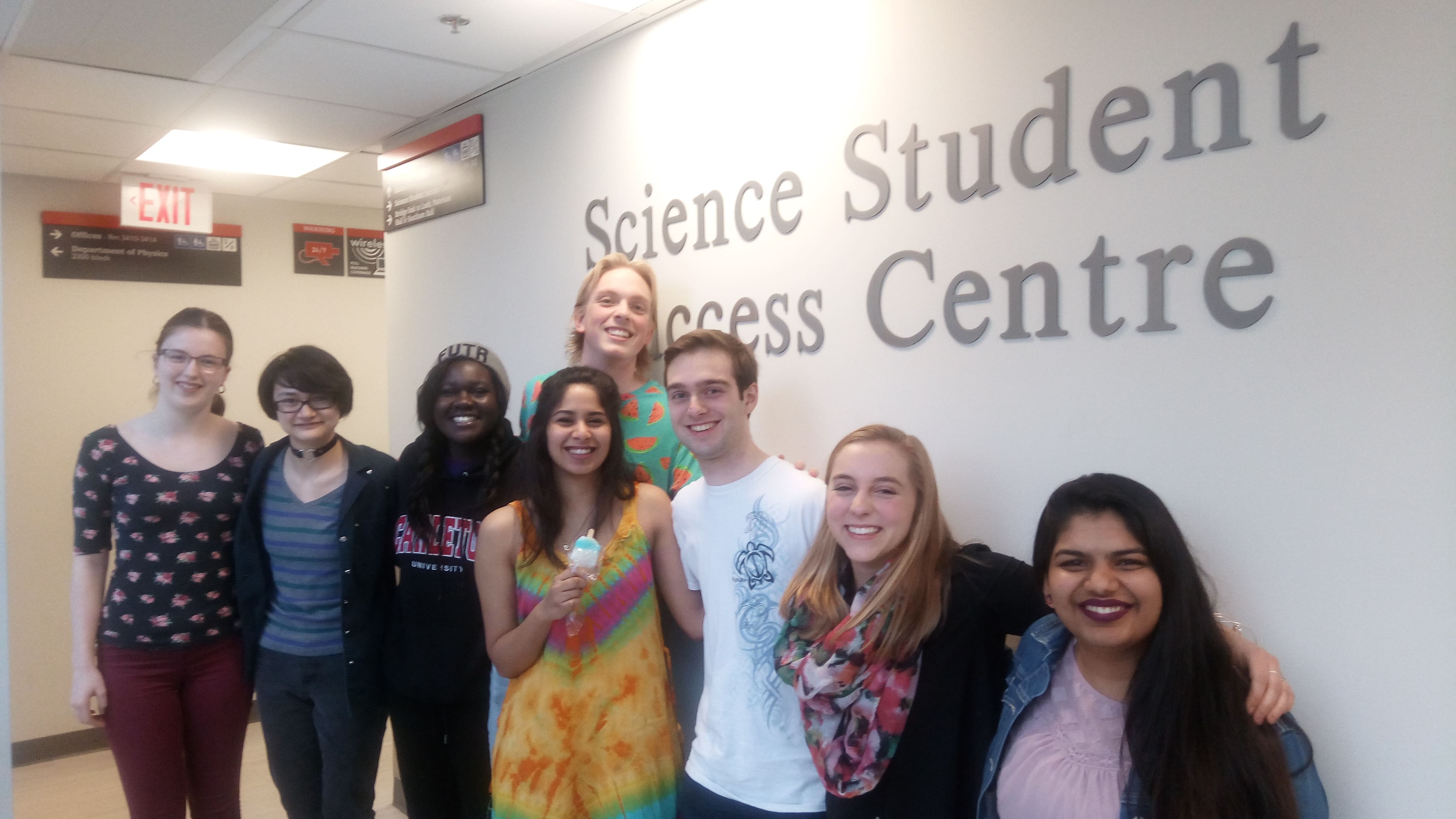 Our FYRs left to right: Jordyn, Carol, Amanda, Vivienne, Ben, Michele!
Posted on: Thursday, April 26, 2018