Information for attendees
This page will provide you with all the information you need if you're signed up for CHEM Matters. If you have any questions about the program, feel free to email chemmatters [at] carleton.ca, and if you have any questions about the chemistry content, please email the instructor at sydney.buttera [at] carleton.ca.
Attendance is mandatory for all CHEM Matters lectures, activities and tutorials, which run from 9:00 am until 4:00 pm from Monday to Thursday and until midday on Friday.
Students will receive an email to their Carleton account before the program begins with any further instructors they require. 
CHEM Matters Schedule 2019- 2020 Schedule TBA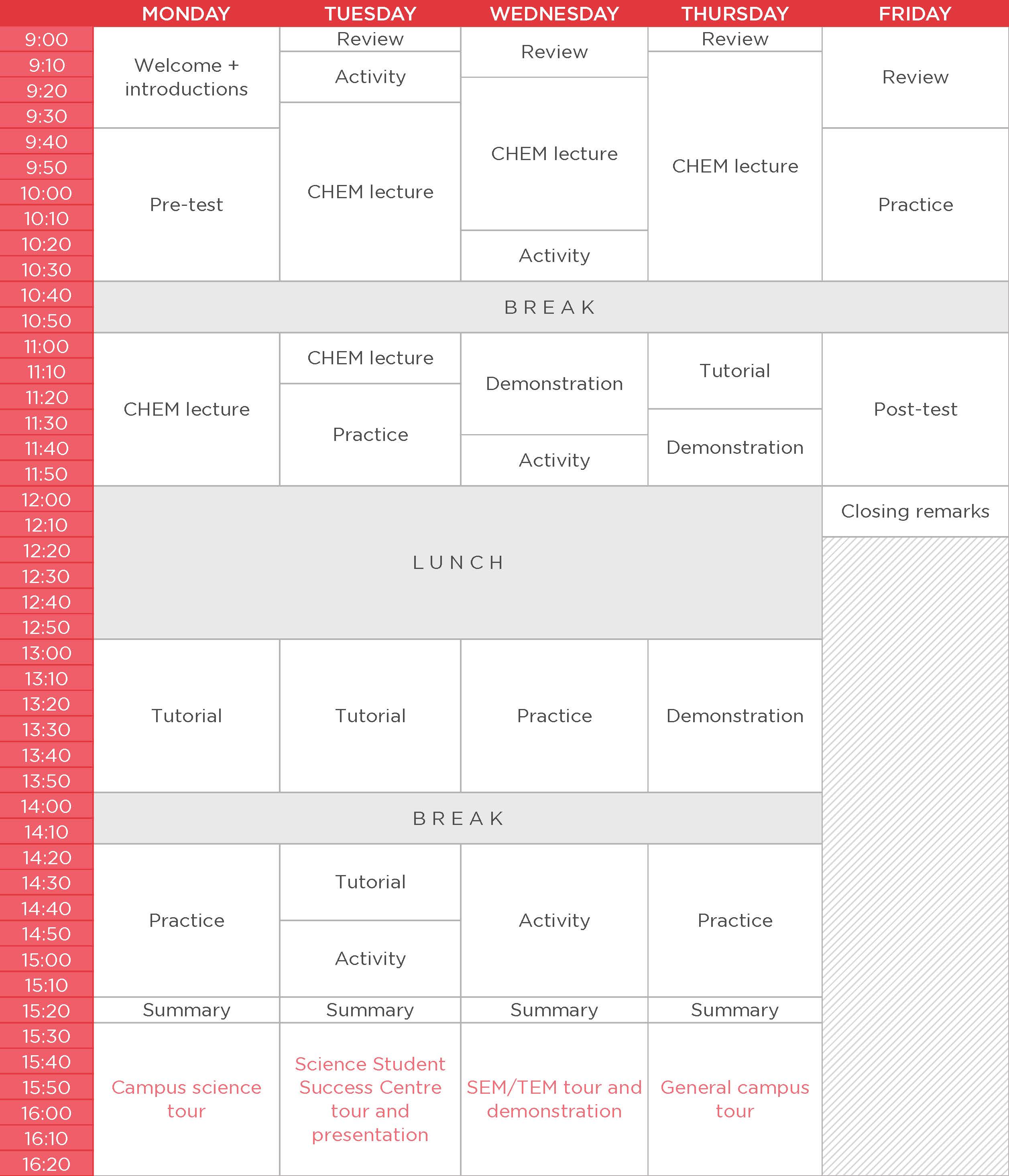 What to Bring
Slides for lectures will be provided as downloadable files on the course's CuLearn page. Any other worksheets or problem sets you need that aren't already provided in class will also be found on CuLearn.
Everyone attending CHEM Matters should bring:
Pens, pencils, erasers

Calculator

Notebook to write notes and for tutorial problems

Printed class slides to make notes on, or some way to annotate them on a laptop (unless you choose to write all notes by hand in a notebook)
Getting to Carleton
No parking passes are available for CHEM Matters participants. The O-Train (2) and OC Transpo routes 10, 7, and 111 service Carleton University with schedules available on the OC Transpo website.
If you choose to park on campus, six lots (of twelve) allow full-day parking for a flat rate without a parking permit. The cheapest lot is P7 located beside Bronson Avenue, and all lots should be within 5-10 minutes walking from the classroom. Please visit the parking rates website for more information.
If you wish to purchase a pass for the week, you can visit Parking Services to apply for a one week pass for $35 + tax for parking lot P18.
Eating on Campus
Lunch is not provided for students participating in this program. Please either bring a lunch with you, or bring money to purchase a lunch at one of Carleton's dining options.
Missing Classes
Since spaces are limited, please only register for CHEM Matters if you are willing and able to attend all five days of the program. If you are unable to attend due to extenuating circumstances after registering, please email chemmatters [at] cunet.carleton.ca () as soon as possible.